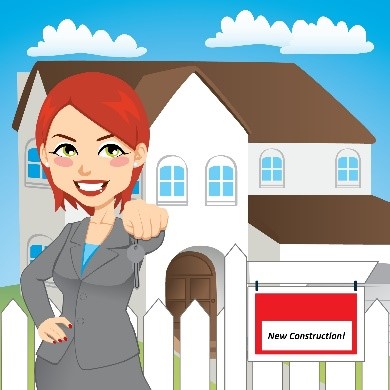 Are You Choosing the Right Builder?
You've gotten your mortgage financing all lined up. You have a list of all of your 'would love to haves' and have settled on a particular area or location in your preferred city. You've established a relationship with your real estate agent and you are ready to jump out there and look for your dream home! New construction is foremost on your list and you have plenty to choose from in the Hampton Roads area.
It seems like new homes abound and everyone is building! Most of them have great floor plans, lovely kitchens, spacious closets, sumptuous bathrooms, beautiful floors and many amenities. You can even customize to an extent and make your own color selections in many cases. My oh my! How to choose??
There are several things you can do to help protect yourself. You definitely want to research as much as you can before making one of the biggest purchases of your life. Just about anyone these days can quickly build a flashy website and get lots of friends, family and employees to rate them highly on sites like Facebook, Google and Yelp. Therefore, it's imperative that you delve into other avenues while researching the builder. Some of the things you need to examine are the quality of work, reputation, membership in the local builders' association, warranties offered, timelines and communication. Also consider the longevity of the builder—are you working with someone who has experience or is this their first construction project?
Researching the builder
There are several websites you can visit to determine if you are working with a reputable builder. The Virginia Department of Professional and Occupational Regulation offers a website that allows you to look up the builder to make sure they are properly licensed and to check for previous complaints. You can also see when they were issued a license and when it expires.
You will also want to find out if the builder is actually doing the building. Most builders manage the building project from beginning to end working directly with the subcontractors throughout the completion of framing, plumbing, electrical, roofing, etc.
Some builders are more like marketing companies. They don't manage the project—they hire out the job to another building contractor. This contractor is actually the one building your new house. "You generally see issues with quality and accountability in situations like this", says Joe Hanley with Classic Design Builders in Virginia Beach.
This can cause a lot of anxiety should there be problems with your new home. Who is going to step up and take responsibility? Who do you turn to if there is a problem with the house after closing--the 'builder' or the building contractor who actually built the home? If the contractor has no liability, they may be more likely to rush through the job thereby compromising quality. This can happen when the 'builder' is focused mostly on marketing and not handling the building projects internally.
Quality
It's easy to be blinded by those wonderful features that hit you right when you walk in the door. Take a few minutes (or more) and look at the details as well. Do the walls look level? Is the trim properly aligned and even? Do the doors open and close smoothly? Does it look like window sills and door jambs are level? Are there cracks and gouges in the walls, trim or floors? This may sound silly—it's a new house right? Surprisingly, these things do happen. It's important to check the details—you will see an occasional ding or small damage here or there in just about every house—but if it seems to be widespread, it may be an indication of the quality (or lack of) with that particular builder. Builders who neglect the details are more likely to neglect the basic construction of the house. Those things are not going to be readily visible but may very well cause problems as time goes by.
Upgrades
Be sure to ask for a 'Standard Feature' sheet. This usually outlines the items and features that come with the base price of the home. Ask which items are upgrades. For example, granite countertops may be standard for some builders but available at an upgrade cost for other builders. Other items may include wood or laminate wood flooring, fireplaces, garage door openers and fences. Get everything in writing and be very specific. Asking for brick steps off the back of your French doors is great—but if you don't specify to have the steps run the entire width of the doors you just might end up with what amounts to a stoop.
Warranty
Virginia state code requires builders to warranty the home for the first year and the foundation for five years. This is where it's very important to know your builder's reputation. It's not unheard of for some builders to close one company and open another to avoid warranty claims or law suits. You want to feel confident that your builder is going to be there for you during the warranty period.
Ask about the warranty procedure. Some builders will allow you to call them directly—love that personal touch! Others require that you go online and fill in a form. Get a clear understanding of what is offered and how it is done. You can also ask for a 2-10 Builders Warranty. This type of warranty can extend coverage on your new home's systems up to two years and cover the structure and foundation for up to ten years.
Timelines
New construction homes do take a while to build. Everything is done on a schedule but sometimes things like inclement weather, back ordered materials, sub-contractor delays and city inspections can cause delays. You must expect some of these things to occur however, the builder should be able to give you a good estimate for the completion date. Ask your agent to check with prior clients to see how long they were delayed (if at all). If you find that this builder has a lot of lengthy delays, you will want to adjust your expectations. A week or two is not unusual, but several months may indicate a problem.
Do not plan a move until you get the green light from your builder. Nothing is worse that lining up the movers and giving your notice to find out closing is delayed for a week or more due to some unforeseen circumstance on the builder's part.
References—follow up
We all like to put our best foot forward. Checking references on line is great—but—are they real? Task your agent to find the past 12 months of closed sales for your builder. This is public knowledge—so there are no privacy violations. Ask your agent to either let you contact the agents for those buyers or just hop in the car and drive by in the evening or weekends to see if you can catch the new homeowners at home! More often than not, people are willing to discuss their experiences—good and bad. They should be able to tell you about their experience with the builder. Ask questions:
Did/does the builder honor the warranty?
Was the builder responsive when/if any problems arose after the closing?
How long did it take for them to fix any problems or make repairs?
Was the communication process simple and easy or difficult and frustrating?
Were they willing to meet with you during the building process to address any questions or concerns?
Did the builder seem genuinely interested in any concerns that you had during or after the process?
Was the builder able to keep relatively close to the construction timeline?
Do you feel like you got your money's worth?
Remember there are different levels of builders in the Hampton Roads area. Some are very experienced and have plenty of satisfied home owners. Some are newer—just starting out in the home building business. Both ends of the spectrum have their benefits. While a more experienced builder may have an impressive resume, they may not be as responsive or able to keep to a timeline due to workloads. Smaller, less experienced builders may be more responsive and able to keep to a timeline but may be handling more tasks. The most important thing is to do your research. This is mostly likely the largest investment of your life so do what you can to protect your interest. Bells and whistles are fabulous, but you want to make sure you don't have a lemon when you scratch the surface!
© Pamela Hunt 2017 This content cannot be reprinted or distributed without written permission. All rights reserved